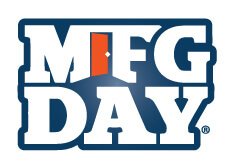 Manufacturing Day is a celebration of modern manufacturing meant to inspire the next generation of manufacturers. Although Manufacturing Day officially occurs on the first Friday in October—this year is Oct 6, 2017—any day can be a Manufacturing Day.
For more information about Manufacturing Day, visit mfgday.com.
Manufacturing Day Webinars
If you have visited mfgday.com lately, you may have noticed that the National Association of Manufacturers (NAM) has taken charge of Manufacturing Day, giving it a renewed energy and focus heading into the sixth year.
To familiarize potential Hosts with MFG DAY, NAM will be hosting three webinars in May.
Thursday, May 18
2 – 2:45 p.m. EST
Register Now
Tuesday, May 23
12 – 12:45 p.m. EST
Register Now
Thursday, May 25
1 – 1:45 p.m. EST
Register Now
If you are curious about what your options are for hosting an event, how to get people to your event, or how you can make MFG DAY work for your company, these webinars are great opportunities to learn from past successes and to ask questions.